Searching for an honest Rank Math SEO review? Your search ends here.
When it comes to WordPress optimization plugins, there are two popular plugins that are most talked about.
One is the Yoast SEO plugin and the other is AIO (All in One SEO) plugin.
They both offer a ton of great features and they both have millions of downloads worldwide.
And then… Just a year ago i.e in November 2018, a NEW SEO plugin came into existence.
Let us introduce you… Rank Math SEO plugin
Rank Math is a WordPress SEO Plugin developed by MyThemeShop. If you're blogging for a while, you might already know about MyThemeShop as it's a popular platform for premium WordPress themes and plugins.
RankMath plugin quickly generated a lot of buzz around the blogosphere because of its incredible features.
Yes, Yoast SEO plugin is still the #1 most downloaded SEO plugin in the history of WordPress but RankMath is quickly generating a lot of positive buzz and raving reviews from users.
Suddenly, everyone started using this amazing plugin from novice bloggers to professional bloggers like Matthew Woodward, Ryan Robinson etc.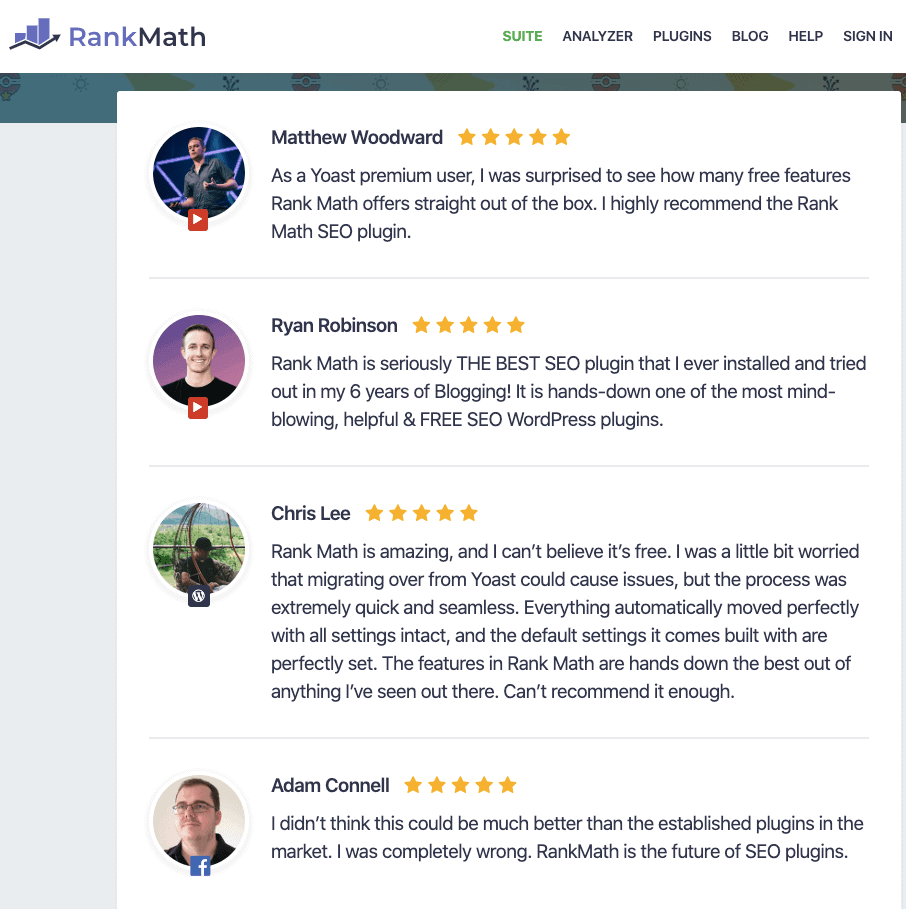 Finding the best free WordPress SEO plugin for your website is an important part. Small business owners, massive conglomerations, bloggers and those who make their living with their websites know how important it is to boost business rankings and bring attention to your site if there is money to be made.
If it is your desire that Google, Bing, and other popular search engines bring potential business to you, then having a WordPress SEO plugin is essential to meeting your goals.
In a nutshell, WordPress alone, while very functional and beneficial, does not provide search engine optimization services.
For this very reason, WordPress.org offers plugins to assist with SEO. The trick, however, is knowing which plugin is right for you and your specific needs.
Does it matter? Are there differences that are significant enough between various SEO plugins?
There are many SEO plugins for WordPress that have many features and are well made, but most of those plugins have missing features that give a feeling of incompleteness. So if you are looking to find a dependable, free, productive plugin to improve your SEO, Rank Math is a great choice
Rank Math will not only increase the traffic to your site through its search engine optimization's high-level performance, but it is also a tool that is available free of charge. Rank Math also provides users with an abundance of options that will allow them to create the best SEO for their own needs.
In this Rank Math review, I will go through all the features of pro and free version, plugin pros and cons and compare the plugin with other SEO plugins.
Rank Math Free vs Pro
Rank Math was created by the experienced development team at MyThemeShop. The plugin is fairly new but has grown in popularity quickly since its release. There is the free version and paid version of Rank Math.
Free version features:
Meta descriptions and titles – You can either use templates or manually change SEO titles and descriptions for each post/page.
Social media descriptions – Manage how your content and images will be displayed on Facebook, Twitter, and other popular social media.
Focus keyword analysis – Optimize content for multiple focus keywords.
XML sitemap – Rank Math lets you create your own customized XML sitemap. You don't have to use the WordPress default sitemap if it doesn't meet your needs.
Structured data/schema – Schema can be controlled for different content parts. You can also set a sitewide schema.
Search console – Sitemaps can be submitted automatically after you connect the site with Google Search Console.
Knowledge graph and local SEO – You can enhance your site so that it appears more prominently in search results for local businesses.
Image SEO – Improve image optimization by adding alt and title tags to your images automatically.
Internal link suggestions – Rank Math will make suggestions about other content that your website can link to when you're using the editor function.
Breadcrumbs – Add breadcrumbs to the site.
Link counter – You can see post/page internal and external links.
Redirects – 301 and 302 redirects can be set and managed.
404 monitor – Keep tabs on any 404 error issues.
Google Analytics – You can see traffic information from your WordPress dashboard after the Google Analytics tracking code has been added.
Basic WooCommerce SEO – Adding product and shop titles and descriptions are some of the primary WooCommerce SEO optimization tasks that can be performed.
Premium version features:
Keyword rank tracking – You can see your keywords search engine rankings over the last twelve consecutive months. You'll have more insight into your keywords' performance.
Google Trends integration
Local search engine optimization can be conducted for multiple locations.
A Google News SEO sitemap can be created.
You can create a Google Video SEO sitemap.
Social media images can be watermarked automatically.
There are over twenty predetermined kinds of schema that can be used.
View Google Adsense earnings history information.
There are more advanced WooCommerce search engine optimization functions available.
If you want to see a full comparison of Rank Math's free and paid version features, you can visit the Rank Math pricing page.
Rank Math's modular approach is one reason why so many people use the plugin. You can enable or disable different features whenever you wish.
Rank Math Review
You get to decide which of Rank Math's modular features you want to use. Some of the choices include advanced image SEO options, support for Accelerated Mobile Pages (AMP), 404 error monitoring, etc.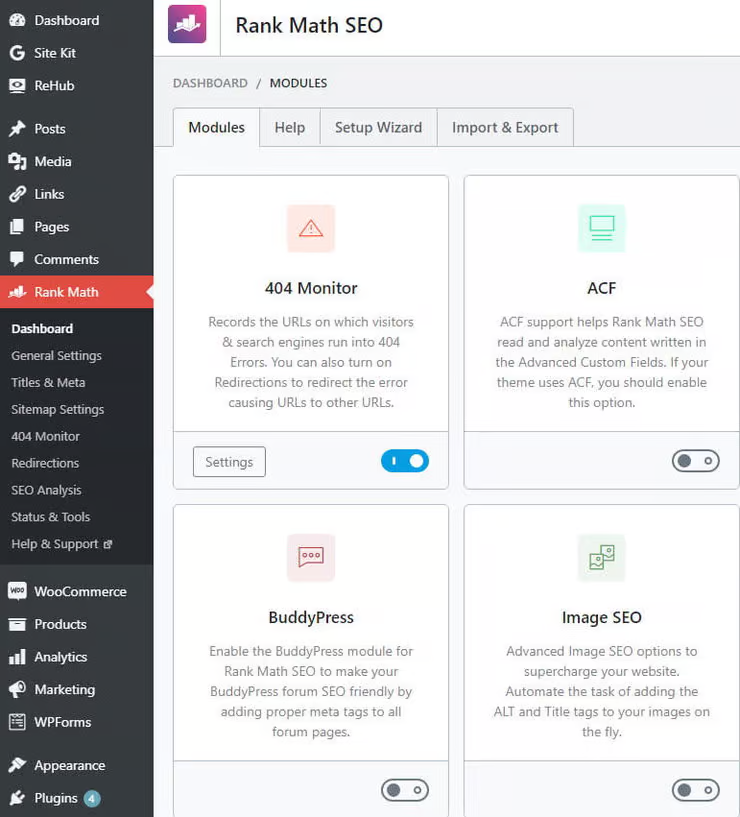 Rank Math is speed optimized because of its modular structure. In addition to its speed, the ability to control various options and the many setting choices are what make Rank Math a very appealing option for many site owners.
If you can't decide which choices to use, you may want to try the various options first. New configuration choices are available for each module that you activate. Rank Math explains its features, which makes setting configuration simple.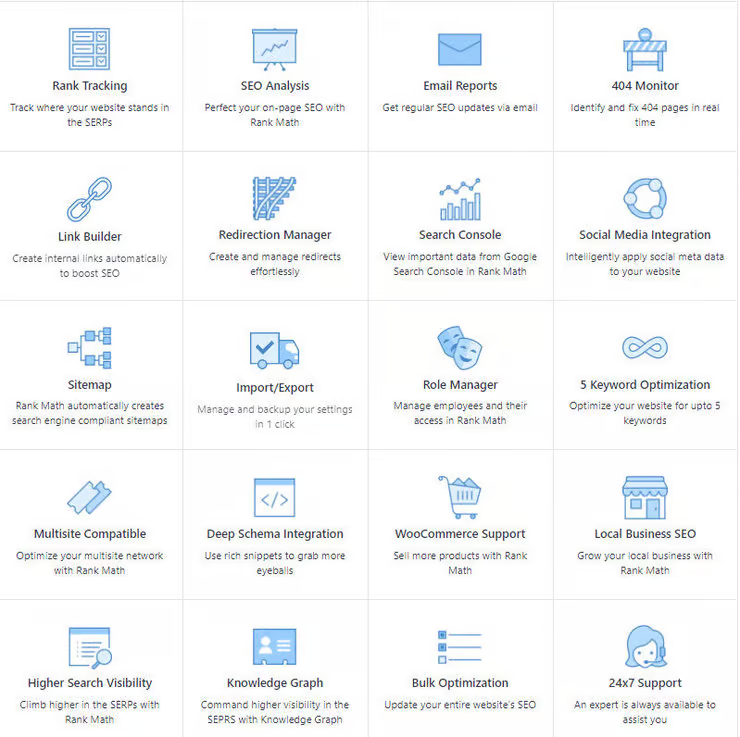 You can start at the main Rank Math menu and go into the General Settings tab to see more setting options. It's rather easy to configure Rank Math. The more modules that you activate means that you're going to have to deal with the corresponding additional settings.
Features Overview
Rank Math SEO can easily be compared to a multi-tool or Swiss army knife when it comes to its use with your WordPress site. When it comes to having total control over your SEO needs, you will find everything you need to help you succeed right here.
By combining the power and features of a variety of WordPress plugins that are already in use, Rank Math SEO results in being the lightweight, all-in-one plugin that is as easy to manage as it is free.
Rank Math makes managing your particular variety of taxonomies easier than it has ever been before. Take care of all the SEO for the products you offer, as well as your pages and posts.
You can also control noindex/nofollow/noarchive meta tags of all taxonomies in general and individual posts or pages in particular. This plugin does it all and holds it all together consistently, eliminating any confusion when it comes to your SEO tasks in the past.
Rank Math SEO and Google Search work in full cooperation with each other as well. This results in users receiving any vital information you may need to run things smoothly.