Water parks are a perfect place to escape the summer heat and have lots of fun. They offer a variety of rides and attractions and cater to all ages. A visit to a water park is a fun day out for the whole family and can be enjoyed by young and old alike. Planning your trip and finding out what attractions the park has on offer ahead of time means you can maximize your ride time and have an enjoyable visit
Part 1
Preparing for Your Trip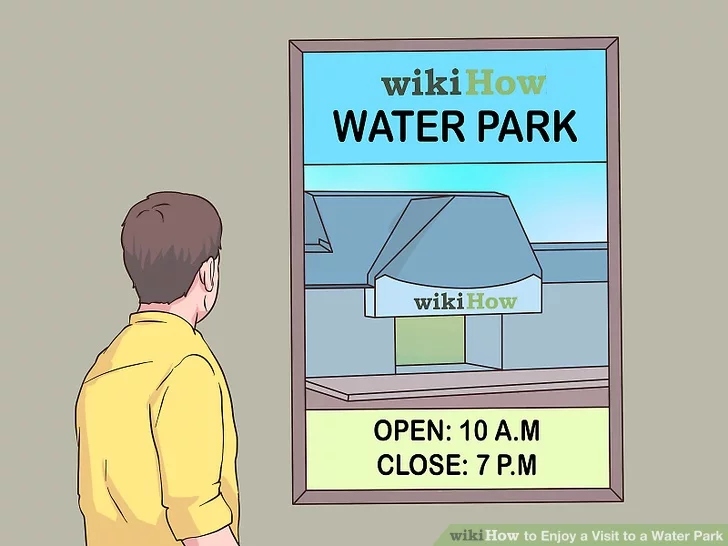 1Check what time the park opens and ticket prices. This allows you to plan your day and budget for your trip. It's best to arrive at the park early, this way you will have more time to enjoy the rides, and the lines will be shorter. You will also have a few hours to enjoy the attractions before mid-day when the sun is at its strongest. While water parks are great when it's sunny, cloudy days will give you more protection from the sun.

You can also check if the park has a restaurant, and decide if you want to purchase food there, or if you are permitted to bring your own.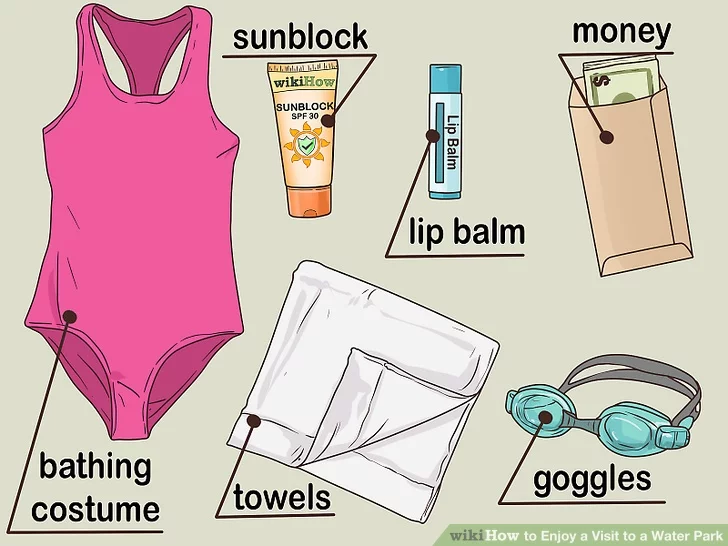 2Pack your bags. Remember to bring a bathing suit, sunblock if the park is outside, lip balm, money for tickets and snacks, towels, goggles, a padlock to secure your locker, and a change of clothes for the end of the day.

If you have long hair, you could also bring a hairbrush or a swimming cap.
It is a good idea to bring some flip flops or water socks along. These are easy to put on and will protect your feet from hot concrete if the park is outside.[1]
To save time, you can put your bathing suit on under your clothes, but remember to pack clean underwear for the end of the day if you decide to do this. You can also change in the locker rooms when you get to the water park.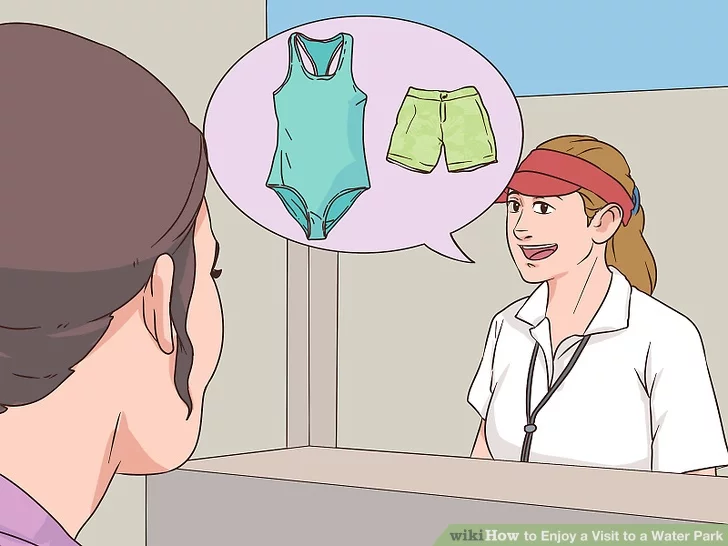 3Check what kind of swimwear the park permits. Some parks ask visitors to wear swimsuits without zips or things that can catch on the rides. Others require toddlers to wear water diapers. [2]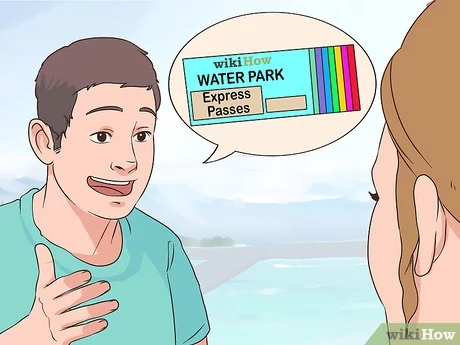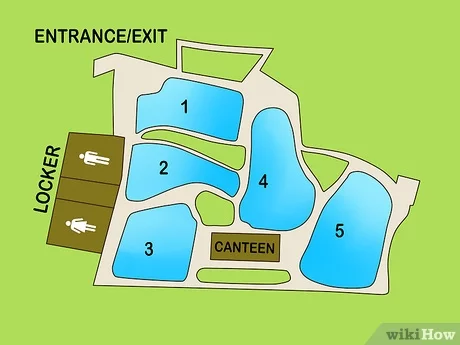 Part 2
Making the Most of the Rides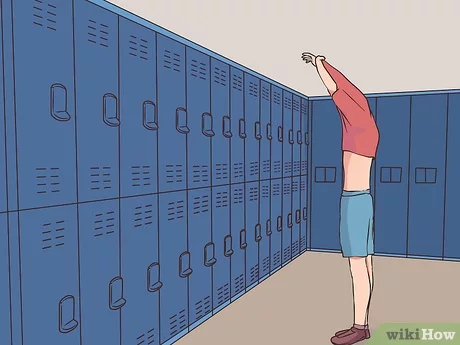 1Find a locker room. Most water parks have locker/changing rooms where you can store your things and get changed. You can lock your valuables in the lockers so that they don't get stolen or damaged by the water. This way you won't have to worry about your belongings while you are having fun on the rides.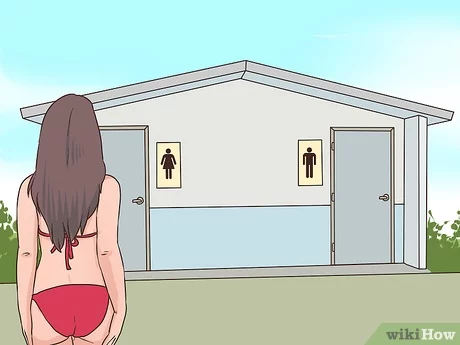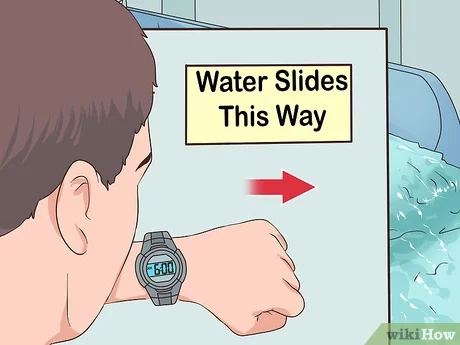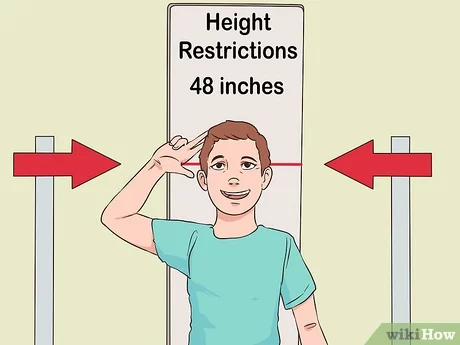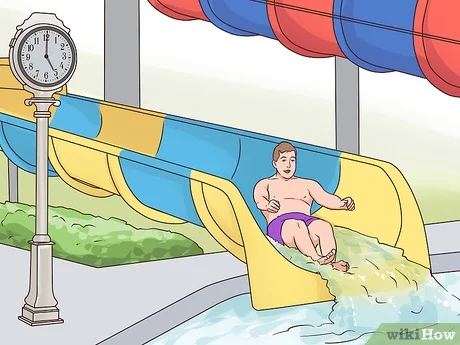 Part 3
Enjoying Your Water Breaks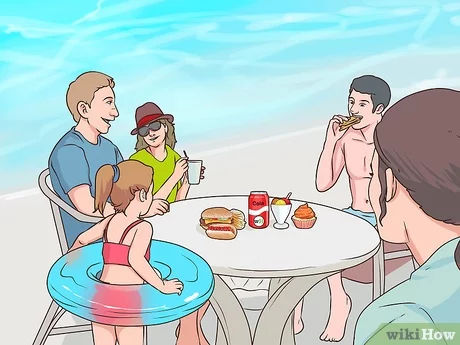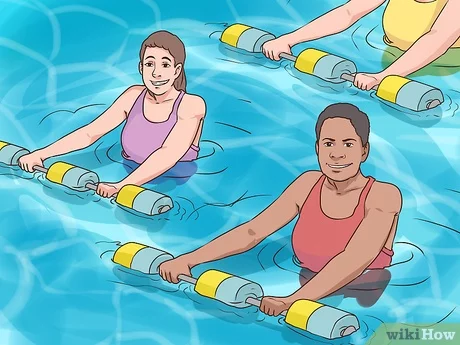 2Take advantage of park activities. Some parks might offer group activities for children, arcade games, or adult only pools. This is a great time to explore what else the park has on offer. [3]
Part 4
Staying Safe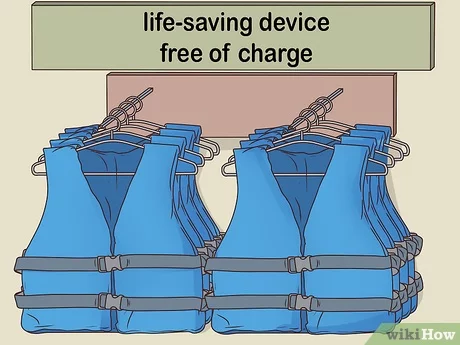 1Plan safety measures. If you are visiting the park with young children who are not yet confident swimmers, make sure that they have a life-saving device. Some parks will offer this free of charge, but remember to find out before you arrive. [4]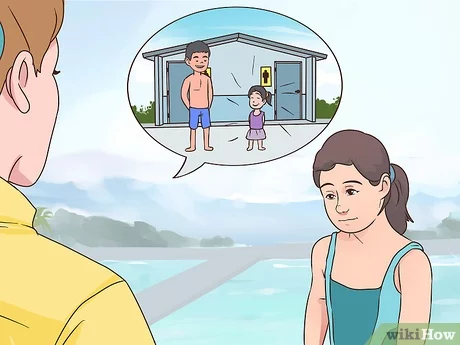 3Relax before you start swimming again. If you jump straight back into the pool after eating, you might get a stomach cramp or feel nauseous. Give your body some time to digest your lunch and only go onto rides once your food has settled. This might also be a good time to relax in the wave pool or enjoy less strenuous activities.[5]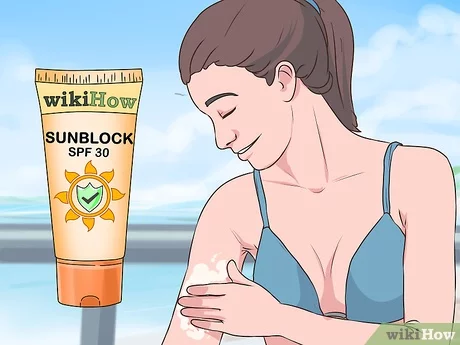 4Apply sunblock. If the park is outside, it is important to apply sunblock regularly to avoid getting burnt and nothing will ruin your day more than getting burnt. A waterproof sunblock is best, but even this should be reapplied throughout the day, especially after body slide rides.[6]
5Drink lots of liquid. It might be easy to forget that you need to drink lots of liquid when you're surrounded by water, but this is really important. Drinking lots of fluid will ensure that you don't get dehydrated. It is a good idea to pack water, fruit juice or juicy snacks like watermelons and oranges.
Community Q&A
Question: What can a younger girl wear to a water park?
Answer: I would probably say swim shorts and a tank top with your bathing suit underneath with flip flops.
Question: I have Hypoplastic Left Heart Syndrome (HLHS), a condition in which the left ventricle of the heart is underdeveloped. Because of this, I can't do many things. Which activities can I do at a water park?
Answer: Stick to the wave pool and/or lazy river. They are very relaxing and enjoyable.
Question: When is the best time to visit a water park?
Answer: The best time to visit the water park is in the morning, as soon as it opens.
Question: Why can't I change in the toilet stalls?
Answer: You can, but the floor is filthy most of the time. The locker rooms are generally cleaner.
Question: If I don't have sun block, how do I block the sun?
Answer: Shea butter lotion works as a superior substitute. Also you could take a floppy hat and use that to protect yourself from he sun's harmful UV rays.
Question: I wear glasses, but I don't want to wear it in the water park. But if I'm not wearing them, I won't be able to see far. What can I do?
Answer: Sometimes it's best to take off your glasses, especially because your glasses could fall off and get lost in the water. However, if you really need to wear glasses, consider contacts or prescription goggles.
Question: What should I do if I get lost?
Answer: If you get lost, find the nearest employee and explain that you got separated from your group or chaperones. To prevent this from being a big issue, you and your parents/friends can decide on a particular spot in the park where you can meet up in case you get separated.
Question:  How do I have fun at a water park when I'm a dork?
Answer: Being a dork is fine, and it should not adversely affect your trip to the water park. Just follow the steps in the article to have fun.
Question:What should a senior citizen lady wear if she is not comfortable with a swimsuit?
Answer: Have you tried wearing coverups over your swimsuits? That works well if you are just sunbathing. If you are actively swimming, try wearing surf suits, which cover most of your body, and are waterproof. If you cannot find one in your size, try wearing a rash guard and board shorts over a sports bra or swimsuit.
Question: I wear specs but want to enjoy water rides. What can I do?
Answer: You can get one of those elastic athletic straps for your glasses, or just have an adult hold onto them for you and have a friend help you on and off the rides.
Question: How do I go to a water park if I don't have swimwear?
Answer: If you don't have swimwear, go buy some, borrow some from a friend, or wear something you don't mind getting wet, like shorts and a tank top.
Question: If I am naturally scared of heights and I go on a water slide I always get scared of the steep drops. Is there a method that I should use to get through it and have fun or not?
Answer: Yes, do it more often. If you do it ten times in a row and repeat that ten times, your fear will decrease and your fun will increase. It's the same for anything and everything anyone is ever afraid of.
Tips
Take note of where the restrooms are so that you know which one is closest if you have to visit them.
Avoid wearing things that can easily fall off during a ride, such as hats, glasses, or other loose items.
If it's not against the park's policies, bring snacks. Most foods in water parks are overpriced, so bringing snacks could save you cash, and long lines.
Bring lots of water and keep drinking it throughout the day to avoid dehydration.
It may be helpful to bring goggles for the rides, especially if you don't like water in your eyes.If you wear glasses you might want to invest in some prescription goggles.
It may be difficult to carry things when you're going on rides, and leaving money at the storage booths can be risky. Buy a small tube that hangs on your wrist or neck and keep cash in there.
Wear your swimwear on the way to the water park to save time.
It is useful to pack a plastic bag to put your costume in so that it doesn't make everything in your bag wet.
Make sure to always have a plan of where you're going next, instead of lingering around and doing nothing. Water parks can be chaotic in the summer, and as a result, will have long lines and crowded walkways.
Warnings
You shouldn't go on certain attractions if you have serious health issues – pay attention to warning signs on the rides, especially if you have back/neck problems. If you are unsure, always consult your GP before visiting the park.
Yeast and bacteria love wet swimwear, so don't wear wet swimwear home.
It is advised that pregnant women refrain from using the slides. However, they can still enjoy the gentle pools.[7]
References