Whether you're displaying your own work or that of other artists, holding an art exhibition is a uniquely enriching experience. However, it can be a real challenge to bring together so many different elements in a cohesive and meaningful way. That's why when you stage an art exhibition of your own, it's essential to have a plan. Once you've chosen a theme for your exhibition, you can begin taking submissions from interested artists, select an appropriate venue for the event and build marketing buzz that will allow your collection to be seen and appreciated by as many people as possible.
Part 1
Finding Artwork to Display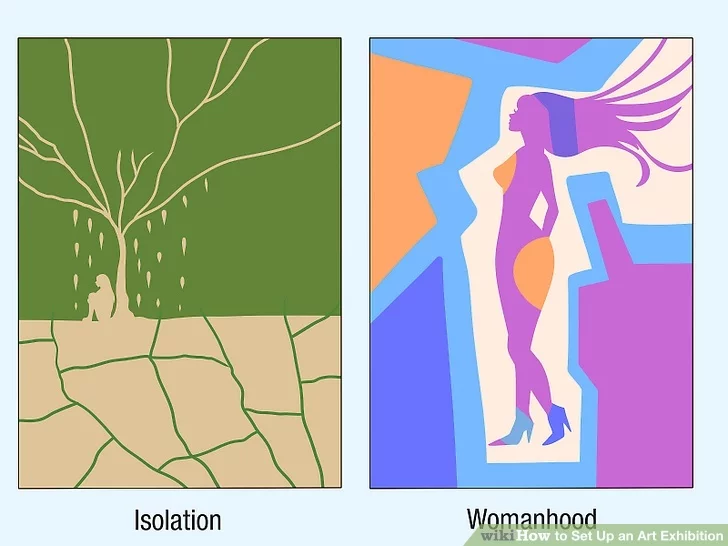 1Choose a unifying theme. A good art exhibition should be characterized by a prominent theme that ties the different pieces together and makes them feel like part of a larger whole. Think carefully about the message you want your exhibition to convey. It could be an image or phenomenon, a feeling or a certain visual technique.[1]

The more specific your theme, the better. For instance, "Black and White" is too general to make much of an impact, whereas "Isolation and Womanhood" explores a far more interesting pairing of ideas.
Name your exhibition. A catchy title like "Neon Daydreams" will help generate attention and point more clearly to the presented theme.[2]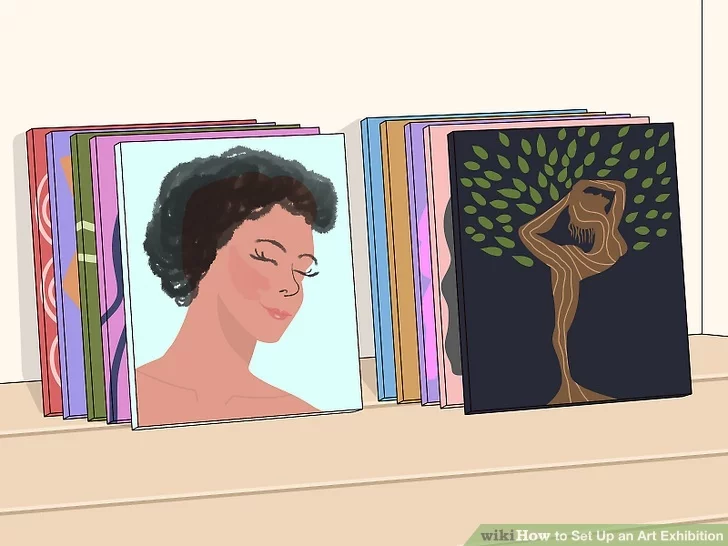 2Select your most impressive work. Pick out a few of your best or most recent pieces to put on display. If you're holding a solo exhibit meant to highlight your own work, you'll need to have anywhere from 10-30 individual pieces to show. The theme of the exhibition should be represented in each production.[3]

Spend the months leading up to the exhibition creating original pieces that you can unveil for the first time on opening night.[4]
Plan on exhibiting more pieces if the work you do tends to be on the small side.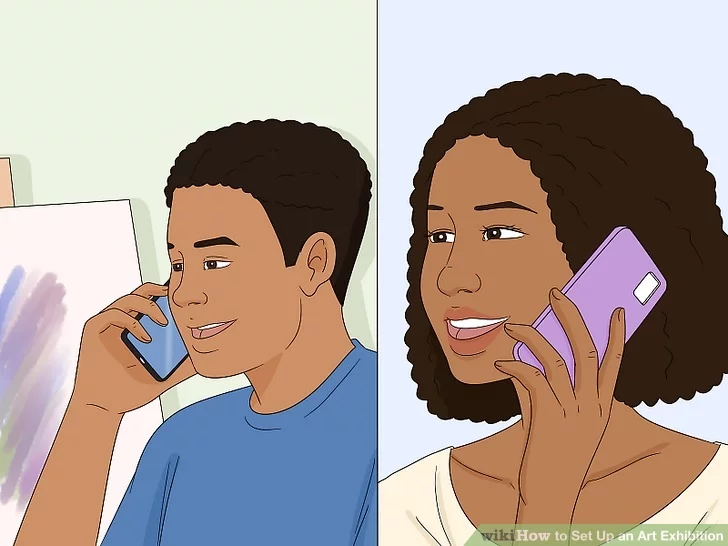 3Contact local artists for submissions. Do some research into other artists in your area and see whether they would be interested in taking part in your exhibition. Collaborative efforts can be a great opportunity for many different artists to showcase their art at the same event, resulting in a more diverse and well-rounded display.[5]

Narrow your focus to artists who have a similar style or tend to produce works related to the theme you're presenting.
Holding an exhibition in conjunction with other artists will also allow you to split the cost of the venue, licensing expenses, framing and promotional materials.[6]
Be sure to give other artists proper credit for the works they've contributed.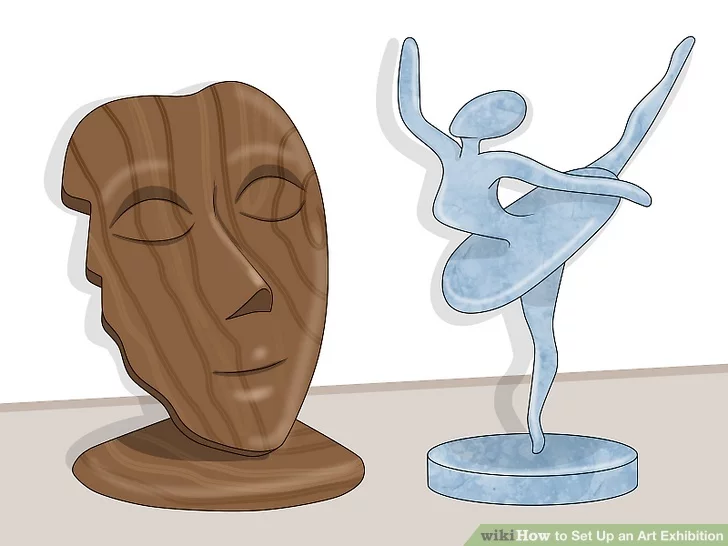 4Work with different mediums. Your exhibition doesn't have to exclusively feature paintings or sketches. Feel free to solicit works from photographers, sculptors, and other types of visual artists. A wide-ranging selection of works will lend collaborations a dynamic atmosphere and give your patrons more to enjoy.

In general, it's best to stick with art you can frame, hang and sell. However, you might also consider inviting poets or musicians to perform at the event, especially if their work complements the exhibition's theme.
Part 2
Organizing the Event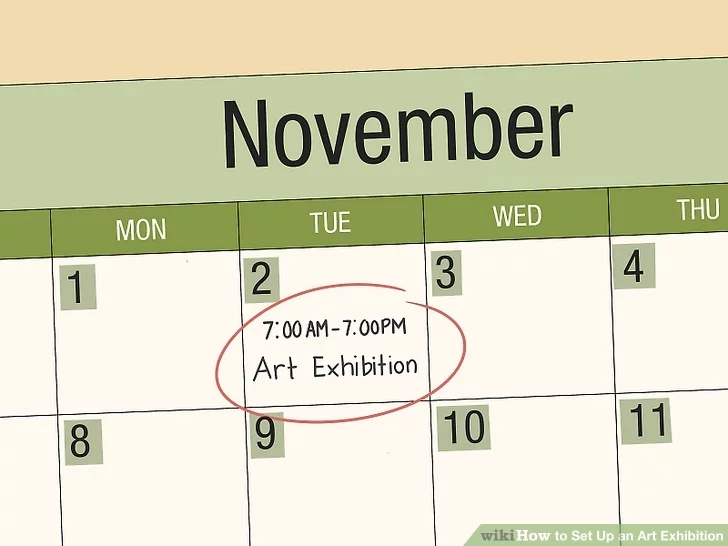 1Set a time and date. Organizing an art exhibition requires an exhaustive amount of coordination, so be realistic about the timeframe you impose on yourself. You'll want to start planning your event at least 2-3 months in advance to give yourself plenty of time to get prepared. If possible, choose a date near the weekend when more people will be off from work and looking for things to do around town.[7]

Avoid scheduling your exhibition on or around holidays that might force you to compete for the attention of the public.[8]
You'll need to have a clear date worked out before you can move on to other phases of planning, such as reserving a venue and advertising.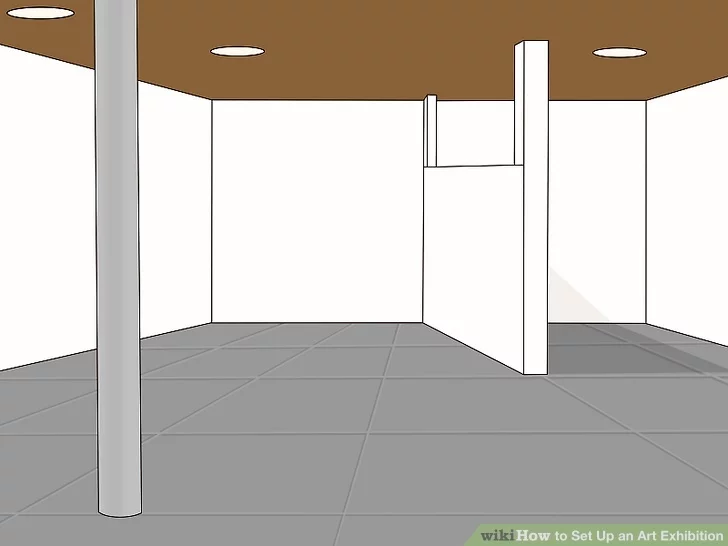 2Secure a venue. Begin searching for a suitable location to hold your exhibition. One obvious option is to rent out studio or gallery space, but keep in mind that you're not limited to traditional art venues—you can also ask around at restaurants, cafes, community centers, churches and area business and see if they'd be willing to help host your event.[9]

Holding your first exhibition in a more casual setting, like a restaurant or coffee house, can help you get over your jitters.[10]
Make sure the location you choose is clean, well-lit and large enough to comfortably hold all the art you plan to display.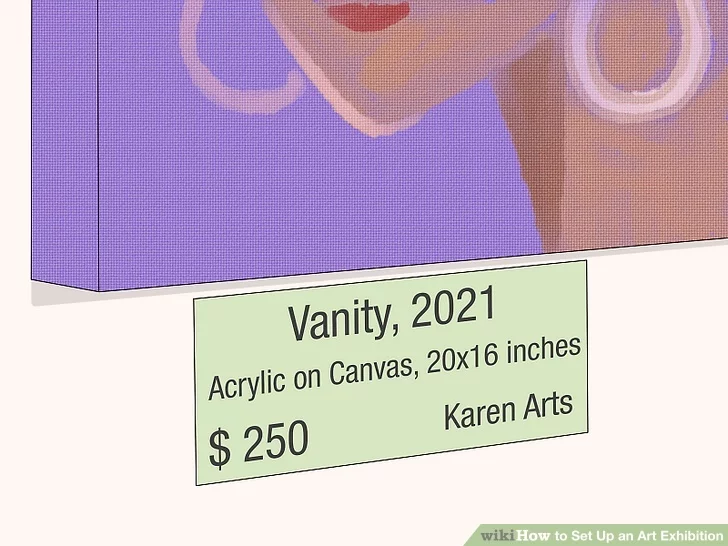 3Price your artwork for sale. The goal of an exhibition is not just to showcase an artist's work but to sell it. Once you have pieces to put on display, you can think about how much you want to charge for them. Try to set prices that are fair to both you and the buyer, taking into consideration factors like the medium, technical complexity and the labor that went into producing the piece.[11]

If you need a jumping-off point, see what similar works are selling for.
If you're collaborating with other artists, you'll have to work with them to come up with prices for the pieces they've contributed.
Not everyone will be able to afford a full-sized painting or original photograph. That's why it's a good idea to keep less expensive items on hand, such as smaller works, sketches and print reproductions that you can sell for a lower price.[12]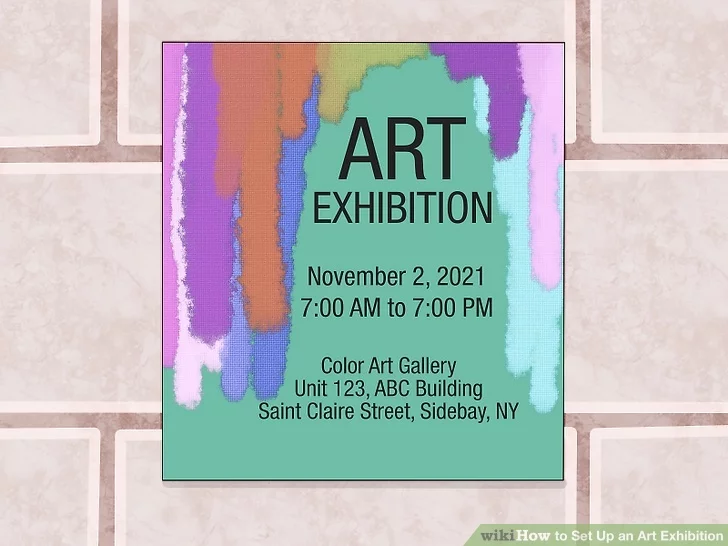 4Create promotional materials. Print posters, flyers, pamphlets and one-page informational ads that briefly describe the nature of the exhibition and the kind of artwork that can be seen there. Be sure to include key details like the time and date, venue, dress code and entrance cost (if applicable). If your exhibition is going to be a high-profile event, you might even consider doing a press release or interview with your local news network.[13]

Post your advertisements in public places like the local university or art school, coffee shops, clubs or even the community bulletin board at the supermarket.
Mail out photo cards with the artists' bios and samples of their work as personalized invitations.[14]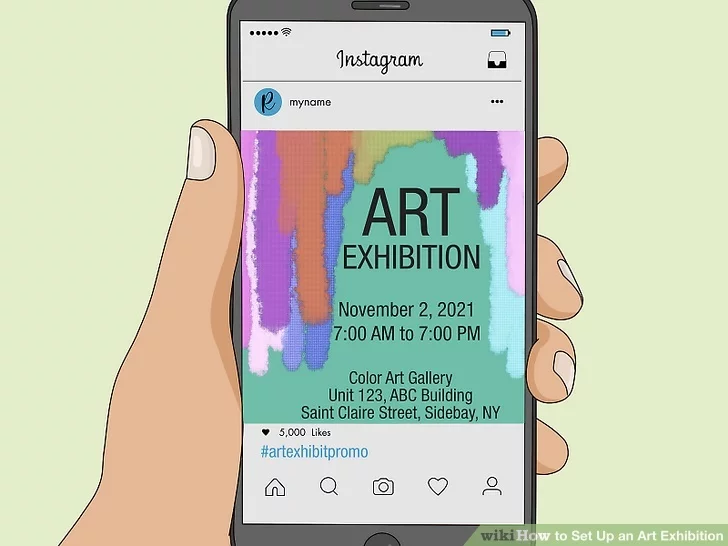 5Get the word out. Let the people around you know that you have an exhibition in the works. This might involve making an announcement in person or posting the event info on your social media accounts. In some cases, you may even be able to collaborate with the venue to reach a larger audience through their website, press releases or official advertisements.[15]

Use media sharing apps like Instagram, Snapchat and Tumblr to preview works from your upcoming show.[16]
You can also have your friends, family, classmates or coworkers help spread the news about your exhibition by word of mouth.
Part 3
Carrying Out a Successful Exhibition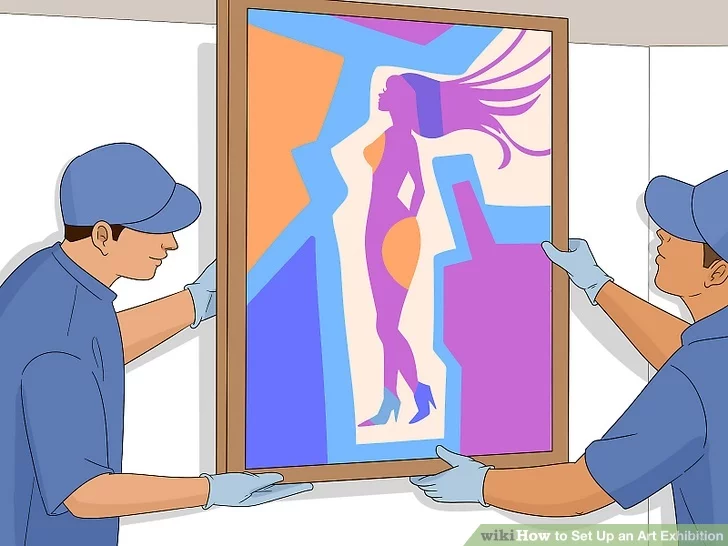 1Ask for a helping hand. Enlist the aid of volunteers, along with professionals like movers, framers and lighting experts. Together, you'll have an easier time coordinating art dropoffs and pickups, getting the necessary equipment and displays into place and keeping an eye on the artwork to keep it from being damaged or stolen. A dedicated crew can ease the burden of trying to do everything yourself and ensure that the event goes off without a hitch.[17]

In addition to movers, it may also be a good idea to hire a photographer or videographer to capture the event on film, and a band or DJ to provide subtle musical accompaniment.
Delegate odd tasks and responsibilities to your team of volunteers to take care of any last-minute preparations.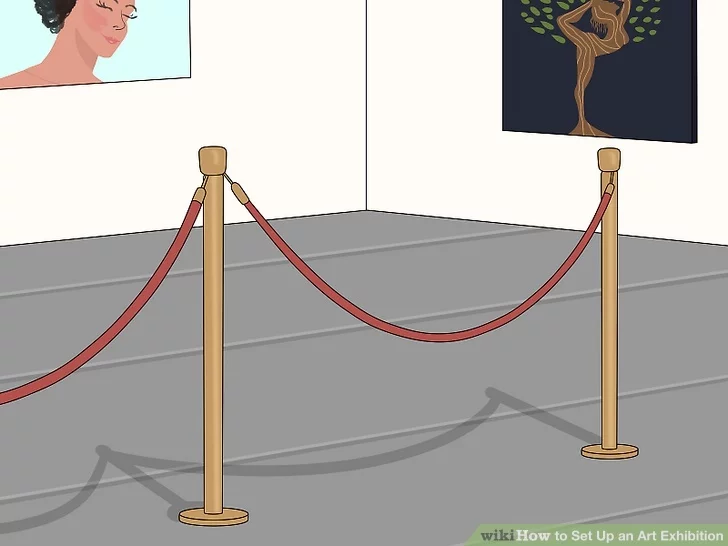 2Set up the exhibition space. Your first order of business will be getting the artwork mounted and situated properly. From there, you can fine-tune the lighting to make sure that each piece is well-lit and plainly visible. Envision how you want your visitors to view and interact with the room, then construct a final layout that fulfills this purpose.[18]

The theme of your exhibition should be reflected in the floorplan. For an installation on institutional oppression, for example, you might put up signs or ropes to restrict and control your guests' movement.[19]
Don't forget to designate space for a meet-and-greet area, merchandise tables or any other resources you think you'll need.[20]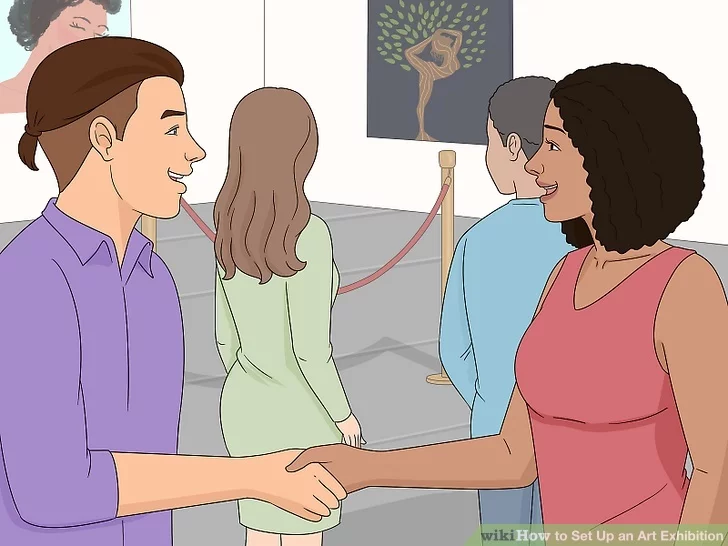 3Engage with the public. As visitors begin arriving, make yourself available to answer questions and describe the artwork that awaits them. This is often the most exciting part of the exhibition for most artists, as it will give you the opportunity to meet the people who will be buying and critiquing your artwork, discuss the finer points of your style and shed some light on your creative process.[21]

If you have pieces on display yourself, be sure to stay close so that you can be easily identified as the artist.
Art exhibitions are social events at their core, so don't be afraid to socialize and have a good time.[22]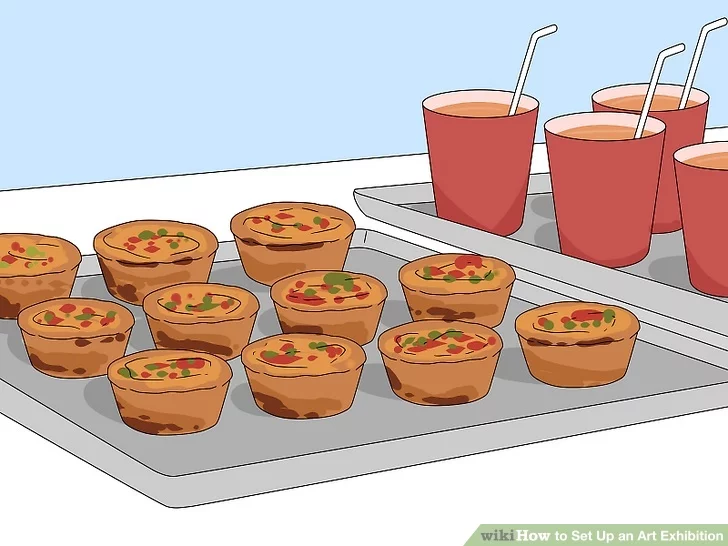 4Offer light refreshments. Provide a few foods and beverages for your guests to enjoy as they take in the exhibition. Simple offerings like cheese, fruit, finger sandwiches and wine will be enough in most cases. If you're expecting a large crowd, you might spring for cocktail shrimp, miniature quiches, hummus and other more substantial crowd-pleasers.[23]

Like the rest of the exhibition, your menu should be planned with your venue in mind, as well as the mood you're attempting to set (casual or formal) and the expected turnout.
More established art galleries will sometimes cover the cost of catering big events.
Community Q&A
Question: If I am organizing a photo exhibition, what kind of materials will I need?
Answer: Photo exhibitions tend to be simpler than traditional art because they don't require as many materials. You'll want to start by having high-quality prints made of each photo and blowing them up for enhanced visibility. Each photo will also need to be framed or matted. After that, you can find the best way to arrange and light them, keeping your overarching theme in mind at all times.
Question: Is it important to sell my artwork?
Answer: No, you don't have to sell your artwork at all if you don't want to. However, galleries and large events that are designed to bring in buyers will usually require that all artwork be for sale; that's how they stay in business. Artists' associations and public institutions that exhibit art just to share it with the public will usually accept work that is not for sale.
Question: Is it ethical to show original art that's not for sale, but offer prints instead?
Answer: Yes, as long as the prints are clearly labeled as prints. You don't want to mislead people into thinking they're paying for the original art.
Question: How much time do galleries typically allow for set up? Will I be required to set it up in one day?
Answer: Every venue is different; some galleries allow plenty of time, and others give you a very small window to prepare the show. A small exhibit of 10-20 pieces can be set up in an afternoon by one person, if both the space and the artworks are completely ready to go. Artwork that needs attention or a space that isn't quite ready can double or triple the amount of time. A show of 60 more-or-less similar pieces will take two days to set up. Figure more time (or more helpers) for pieces that vary greatly in size and style; it will take more time planning where each piece should go.
Question: Can I start my own art campaign while I'm still attending school?
Answer: Yes! Being an artist has no age limit.
Question: What are the fundamentals for art exhibitions?
Answer: The following would be good fundamentals: A good theme in the artwork, that represents all its content in a single, catchy name of two or three words. A good ambience and smooth illumination, that concentrates on giving a cozy atmosphere, and good light for each art piece. Do not pile too many art works in the same space, but give each one a certain space. Also, soft music can give a good stage.
Question: What are the basic parts during the opening ceremony of an art exhibit?
Answer: Start by giving a short speech with an introduction of the artist and maybe a description of the media used or artist's bio. Make the guests aware of any rules such as no flash photography. Then, encourage your guests to look around and help themselves to refreshments, if available.
Question: Will I need to organize tickets
Answer: If the event will cost money, it would be a good idea. However, if the event is free, the need for tickets is not very strong.
Question: How can I organize a non-profit art exhibition for my community?
Answer: First you may want to get a stall or tent and spice it up a little. Decorate it, then you'll want to fill it with art, tables, chairs, water, and cakes. You will also want to make a sign and leaflets/brochures to hand out to the community.
Question: What should I do if there are no other artists to collaborate with in my area? Is it always necessary to work with other artists?
Answer: No–many artists put on successful solo exhibitions all the time. It will, however, likely mean more work and expense for you. In addition to providing all of the artwork, you'll be responsible for setting up and overseeing every aspect of the event yourself. However, this will also give you much more control over the direction of the exhibition, which will allow you to explore your theme and its presentation freely in whatever way you see fit. You'll also claim a higher percentage of the proceeds from sales.
Tips
It's highly recommended that you purchase liability insurance for the location hosting the exhibition. That way, you won't be held responsible should something happen to a guest, a piece of artwork or the venue itself.
Get everything scheduled, bought, delivered, cleaned, framed, and set up as early as possible to reduce your stress as the date of the event draws closer.
Wrap your artwork in bubble wrap to keep it protected on its way to and from the venue.
If you aren't afraid of public speaking, open with a short speech. Thank your visitors for coming, then spend a few minutes briefly explaining the theme you've chosen, the artists you've collaborated with and your general vision for the project.
Consider selling other types of merchandise (t-shirts, tote bags, buttons, etc.) that will appeal to people who aren't inclined to buy original works of art.
Warnings
Be sure to include a notice if your exhibition contains mature themes that may not be suitable for younger visitors.
References